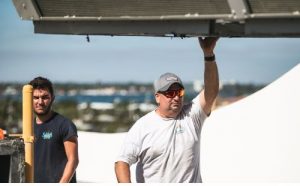 We do love heavy lifting. In fact, we shine when it comes to commercial HVAC installations, retrofits, repairs and maintenance. Our technicians are specifically trained to work on any kind of commercial equipment and handle any job, small or large. And we've worked in many specialty areas including restaurants, hospitals and medical facilities, condos, hotels and more.
Safety comes first always! That's why it's so important that we are highly skilled and accurate with our work. Call us today to get the ball rolling. We will tailor an agreement to your equipment and facility.
Commercial Installation, Repairs and Maintenance
All types HVAC/R equipment including air handling units, heat pumps, mini splits, package units, etc.
All types of pumps, including condenser water and chilled water
Cooling towers, air and water cooled chillers, thermal storage, heat exchangers and boilers
All types of refrigeration equipment including walk-in coolers, reach-in coolers, freezers, ice machines, etc.
Temporary and Portable Air Conditioning Solutions
We offer temporary cooling solutions for small and large spaces. Units can be rented for short-term or long-term needs.
Energy Management, Controls and Variable Frequency Drives
Let us figure out to make your building run more efficiently.
24 hour emergency service