Opening its doors in 2013, Sailfish Mechanical is a commercial and residential AC company owned by James and Kimberlee Micolo. As a highly trained expert, James actually started in the industry while still in high school. After working for other AC companies, he saw the need for a higher level of integrity and professionalism. He and Kimberlee both recognized the demand for technicians who provide top-notch service without pushing customers to buy something they don't require. In 2018, the company added plumbing to its slate of services.
Sailfish Mechanical services clients in South Florida from Martin to Broward County.
Company Culture: A Team Approach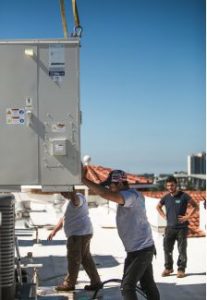 Superior service requires collaboration, communication and cooperation. Everyone on our staff, including the owners, works on an even playing field where no task is too big or too small for any one person. Teamwork is critical because this can be a dangerous business. And that's why safety comes first above all else.
Responsiveness is also a company value. We prioritize service on need and urgency of the issue and not by the type or size of the client. Our clients tell us repeatedly that they are happy with the value we provide them, and that's why so much of our business is repeat and referral.
We love what we do and hopefully it shows.
Pride
We take pride in our values…how we treat our staff, our customers and suppliers. We are about fairness, honesty and quality of service. What's more, we believe in supporting our community so that we all can lead better lives.
James Micolo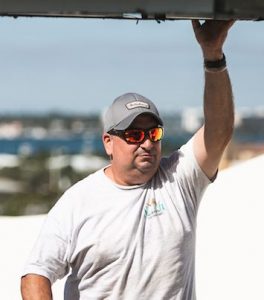 James has spent his entire career in the HVAC industry beginning in high school more than 30 years ago. After graduation, he went right to work for a residential AC company learning the trade and eventually working for a second company learning the commercial side of the business. James worked with one of the top manufacturers, Trane, for a stint in Mississippi and Orlando where he was the start-up technician on customer sites that included Bombardier, Kennedy Space Center, Orlando Convention Center, Lockheed Martin, General Electric and the Daytona Speedway.
Prior to starting Sailfish Mechanical, James worked for two other HVAC companies in a supervisory role and gained experience in working with new construction and renovations for condos, hospitals and other medical facilities. He has worked in a number of specialty areas such as plumbing and helped install a medical gas piping and fire suppression system. He also has experience in building commissioning. Needless to say, his level of expertise is among the highest in the industry.
Kimberlee Micolo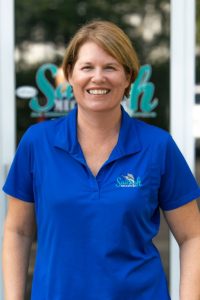 Kimberlee received her degree in accounting and worked in the field for a number of years. Eventually she ventured into a finance role working as a real estate analyst and later as an asset manager. After she moved to Florida (from Canada) in 2003, she went to work for Ideal Brands, a kitchen / closet cabinet distributor, as the Controller. Her responsibilities included financials, controls, system implementations and more. Obviously, Kimberlee has a penchant for organization and details. But she's also creative.
At Sailfish Mechanical, Kimberlee is responsible for the accounting, insurance, human resources and marketing. But every now and then, you'll find her in the field getting her hands dirty along with James and the other technicians.
Community Involvement
James and Kimberlee and their team are dedicated to making a difference in the community by participating in these organizations and events:
4 Ocean
Toys for Tots
Habitat for Humanity
Jupiter Lighthouse Luminaries
Business to Business for Women Board Member
Palm Beach North Chamber of Commerce / Women In Business Council
Palm Beach Air Conditioning Association Member